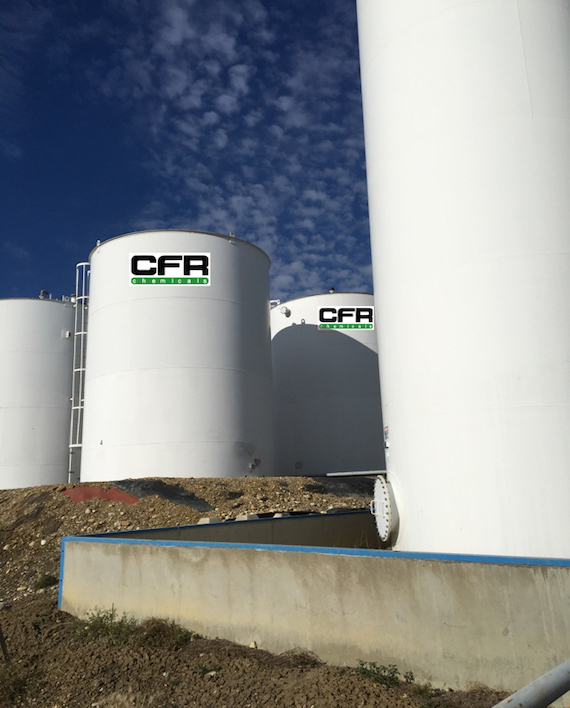 Better People, Better Service.
Founded in 1996, CFR Chemicals is a privately owned Western Canadian company with a primary focus of supplying both commodity and specialty chemicals to the energy, industrial manufacturing and resource industries. We provide blending, rental and storage services along with distribution and transloading capabilities to support our customers' many diverse needs.
As one of the largest privately held chemical suppliers in Western Canada, CFR Chemicals works with a network of proven partners to service all of our remote customer locations. To provide strong flexibility, our plant is strategically located just west of Red Deer, AB and with access to CN Rail, CP Rail as well as Alberta's Hwy #2. We are open 365 days a year to meet and exceed your supply & logistics needs and expectations.
CFR Chemicals has developed a strong network of suppliers around the world to provide the highest quality products for our customers. A highly skilled and experienced team serves our clients with pride every day. It is our unparalleled commitment to customer service that will be the reason CFR Chemicals becomes your first choice chemical supplier.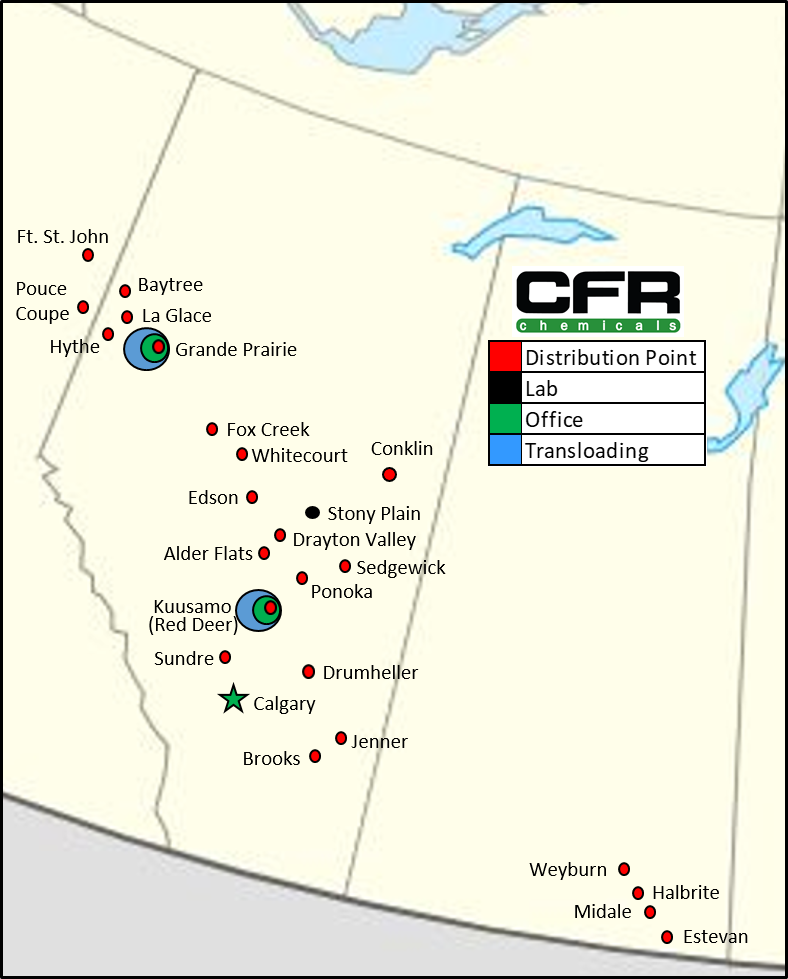 Strategically located distribution hubs give CFR Chemicals Inc. a comfortable reach across the Western Canadian Basin to service our customers as close to their facilities and working locations as possible. With our in-house lab & field technical services centrally located, CFR Chemicals can deliver a timely turnaround on sampling, testing and fluid analysis to ensure your system is operating at peak performance. We provide full testing and analysis support for our products. Take a look at the NEWS tab for information on our newest hub in Conklin, AB to help service the Oil Sands, Heavy Oil and Eastern Alberta region.
With a 130 railcar spur located at our plant in Kuusamo, AB (west of Sylvan Lake), another 10 railcar spur in Grande Prairie and working relationships with both CN Rail and CP Rail, CFR Chemicals can be your solution for both "wet" and "dry" transloading. Take advantage of more cost effective rail transportation throughout North America. Give us a call today and find out what we can do for you.
The delivery of your chemical product is as important to us as it is to you. We only use approved carriers throughout North America with strict requirements to ensure safety and reliability. Our plant in Kuusamo offers available access 7 days a week, 365 days a year just off Alberta's Highway #2. If your operation, facility or well site surprises you with an unplanned event, we are always here to help. Give us a call on our Toll-Free number, 1-877-269-3419.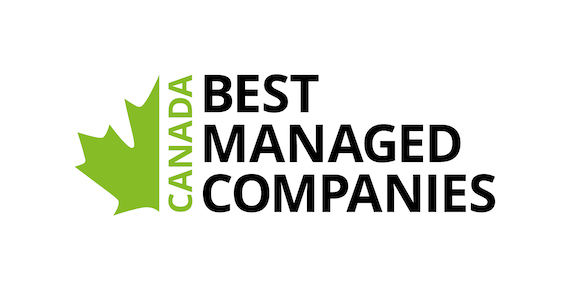 Canada's Best Managed Companies
CFR Chemicals is honoured to be selected as a Canada's Best Managed Company since 2014. A six-time recipient and a Gold Standard Award winner, CFR Chemicals is proud to promote this badge of distinction within the business communities we serve. Canada's Best Managed Company is the country's leading business awards program, recognizing excellence in private Canadian-owned companies. Each year, hundreds of entrepreneurial companies undergo a rigorous application process, but only the best are awarded with this prestigious designation.
Since its inception in 1993, what makes this program unique is that it:
Focuses on Canadian owned and managed companies
Recognizes overall business performance and sustained growth
Recognizes the efforts of the entire organization
Measures more than financial performance
For more information on the program and winners please visit: www.bestmanagedcompanies.ca.
Leadership Team
Brian McKay | President and Chief Executive Officer
Brian has 25 years of experience in diverse industries, including 10 in the chemical sector. Appointed as CFR Chemicals' President & CEO in September of 2010, Brian led the company in achieving significant top and bottom line growth as well as market diversity. In his first role with CFR, Brian served as VP, Sales and Marketing in April 2009. Prior to starting at CFR Chemicals, he was an owner/operator of a leading Western Canadian residential supply company and held a senior Sales and Marketing position at 3M Canada. Brian holds a Bachelor of Commerce degree from the University of Calgary.
Brian joined CFR in April 2009.
David Arbuthnot | Chief Financial Officer
David has 25 years of experience as a senior finance and operations executive and consultant. David obtained his CA designation in Toronto and from there, transitioned to industry working with a multi-national public company in the consumer products industry. While there, David served as Vice President Finance and Operations leading operations in manufacturing and distribution in Canada and the U.S., culminating in overseeing the U.S. manufacturing operations. Upon returning to Canada, David has served as Vice President Operations and Finance with public and private companies in the Oil & Gas service and construction industries.
David joined CFR in August 2015.
Steve Nerland | Chief Operating Officer
Steve is a graduate of BCIT in Oil and Gas Technology and has 37 years of oil industry operations experience, split equally between domestic and international operations. He was recruited from school by a multinational service company and spent the next 4 years in South East Asia before returning back to Canada and spent the next 13 years in various capacities ranging from field supervisor to District Manager. In 1991 Steve was assigned to Russia where he held the positions of General Director and later Country Manager until 2004. For the 5 years preceding his arrival at CFR, Steve was the Country Manager for a Calgary based junior international oil company and oversaw the exploration and development of 3 blocks in Southern Asia.
Steve joined CFR in January 2010.
Kerry Wild | Director Operations
Kerry brings 20 years experience in the Oil & Gas industry in varying occupations. He has 6 years experience as an Oilfield operator, working at both CNRL and ConocoPhillips Canada, as well as 5 years experience in field sales of petroleum technologies and commodities. Kerry joined the CFR team in 2015 as an account manager in the Edson, Whitecourt, Fox Creek territory and was moved first into the corporate development role and currently as Director of Sales. His understanding of field level processing, logistics and operations is key in evaluating and delivering on customer's challenges and expectations. Kerry leads a team of very experienced and dedicated territory sales representatives in meeting and exceeding customer expectations for price, quality and service.
Kerry joined CFR in 2015.
Robert Belsher | Manager, Customer Service & Logistics
Bob brings an agricultural background to CFR Chemicals, having owned and operated a grain farm of 1150 acres in the Peace River region of Alberta for over 16 years. During that time, he spent most winters working in various positions within the oil patch of northwestern Alberta with such companies as NOWSCO, GN Transportation, and CanWest Propane. This experience gave him an understanding of the challenges that must be overcome to get our products to the customer's locations. He is committed to maintain the best service for CFR's customers and is an integral part of our Operations Team to ensure a cost effective, safe and reliable delivery of products to locations in Canada, the US and Internationally.
Bob joined CFR in December 2006.



CFR is proud to have obtained an Alberta Certificate of Recognition (COR). This represents a significant achievement in our health and safety practices. We strive for continuous improvement, and to be a valued resource on best-practices within our industry. We welcome comments and suggestions from our customers – chat with us today.
We are also proud members of both ISNetworld, and Complyworks. Contact our Health and Safety manager for additional safety information, or our Corporate Development Manager for more information on our involvement with vendor management systems.
Technical and Safety Training
Training is available for individuals or groups. Employing chemists, certified technologists, and professional engineers ensures there is always a member of the CFR team to provide you with the information and training you need, when you need it most.